What causes hereditary hair loss?
Each hair grows from a pocket in the skin called the hair follicle. During its growing phase, the follicle has a bulb-shaped bottom, the center of which is called the dermal papilla. The papilla is fed by very small blood vessels, which bring it food and oxygen and remove wastes. The papilla is highly sensitive to hormones and other chemicals secreted by the body (or ingested as a medicine) which impacts hair growth. It is believed that some men have a genetic predisposition to a receding hairline. These conditions result from hormonal changes caused by an enzyme in the dermal papilla called 5-alpha-reductase (5AR). This enzyme breaks down the hormone testosterone into dihydrotestosterone (DHT). Over a period of time, an over abundance of DHT causes the hair follicle to degrade and shortens the active phase of the hair, leading to thinner hair and eventual hair loss.
What are the other approved health claims?
Used in Herbal Medicine to help relieve the urologic symptoms associated with mild to moderate benign prostatic hyperplasia – BPH (e.g. weak urine flow, incomplete voiding, frequent daytime and night time urination). Used in Herbal Medicine to help reduce elevated blood lipid levels / hyperlipidemia.
How does Bio-Fen Plus for Men® work?
Specific compounds within the herbal extracts inhibit the 5AR enzyme (and therefore reducing DHT) to prevent or slow down the rate of hair loss. This process is the principle by which the prescription drug Propecia (finasteride) works. However, Bio-Fen Plus for MenR contains additional natural compounds that reduce excess cholesterol (the building blocks of testosterone), so that less DHT can be produced. Bio-Fen Plus for MenR also contains vitamins to increase blood flow to the small capillaries that feed the hair roots, to deliver the active herbal compounds and remove waste. The saw palmetto extract also inhibits the 5AR, and helps to relieve the urinary symptoms of mild to moderate BPH for men. Therefore, Bio-Fen Plus for MenR provides a natural, safer alternative to these expensive drugs, and/or expensive and painful hair transplants. As with the prescription alternatives, results vary from person to person, and no one product will work for everyone.
How long must I use Bio-Fen Plus for Men®?
Bio-Fen Plus for MenR capsules are usually effective at stopping hair loss within the first two months. However, since healthy hair grows only about 1 cm each month, it may take up to three months before you notice that hair growth is increased or the rate of hair loss is decreased. Anyone experiencing new growth should see it within four months. In some people the original pigmentation may come back. Once you stop completely your hair growth pattern will slowly go back to the point where you started. However, some people may be able to go with a lower maintenance dose.
How safe is Bio-Fen Plus for Men®? The ingredient combination in Bio-Fen Plus for Men® is generally safe for most adults. However, the following cautions are advised: Consult a health care practitioner prior to use to exclude a diagnosis of prostate cancer, or if you have diabetes. For BPH or elevated blood lipid levels, consult a health care practitioner if symptoms persist or worsen. People sensitive to niacin may experience flushing of the skin that is generally mild and transient. Discontinue use if you experience hypersensitivity to flax, such as an allergy (may occur in rare cases). 
What does each Bio-Fen Plus for Men® capsule contain?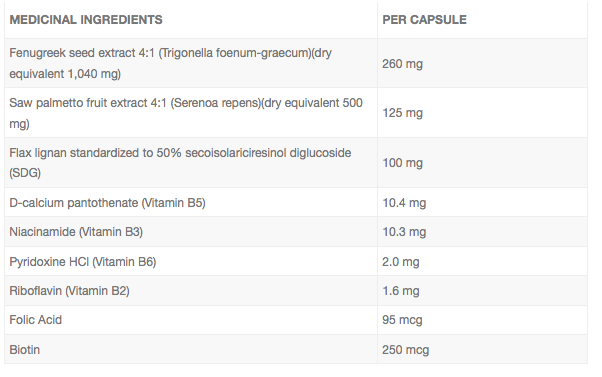 Non-medicinal Ingredients: colloidal silicon dioxide and vegetable-based magnesium stearate in a veggie-based capsule. 
Recommended dose (adult men): Take one capsule twice a day, or as directed by your health care practitioner. Take with food.
Why has the recommended dose doubled? Based on new research on the rate of metabolism of SDG in flax lignans (8-12 hours on average), the dosage in both products has been increased to twice a day for optimum results. Though the price of the products will remain the same, you will get much more value. The flax lignan extract in the original formulation was 100 mg standardized to 20% SDG x 1 capsule per day, which equaled to 20 mg/day of SDG. The new formulations have 200 mg per capsule of flax lignan extract standardized to 50% SDG x 2 caps/day equals 200 mg/day of SDG. As such, one is getting 10 times the amount of SDG per day!
What is the quality of Bio-Fen Plus for Men®? Bio-Fen Plus for Men® is manufactured in Canada according to quality assurance specifications called Good Manufacturing Practices (GMP). This ensures that the ingredients are tested for their level of quality, potency & purity, prior to production and the finished product prior to sale. See our website (Store Locator Page) to locate your nearest store that carries Bio-Fen Plus for Men® and other quality Hair Grow Technology products that target hair loss and support the growth of strong, healthy hair. If you have any questions or comments, please do not hesitate to contact us. 
Hair Grow Technology (Bio-Fen Plus) is a progressive company – we continually seek out the latest research on bioactive ingredients, and on regulatory updates in the natural health products industry.
| | |
| --- | --- |
| SKU | bio-fen-plus-men |
| Weight | 0.1500 |